Current News

Welcome to our website!

The Friends of the Schoolhouse web site will keep you informed about The Old Britannia Schoolhouse and the activities and events planned by the Friends' organization. We encourage you to check this site often. New information will be added monthly.
Celebrate Canada 150 All Month
July 1, 1867 is the date the Confederation of Canada became official. Since then Canadians have celebrated every first of July with parties, parades, fireworks and just generally having fun. There will be even more festivities this year as we celebrate the 150th year of confederation. Here are some suggestions for interesting and fun ways to recognize Canada 150 not just on July 1 but all month.
On July 1 attend a local event in your community. If you can't do that, watch the celebration in Ottawa on TV.
During the month visit one of Canada's many historic sites and learn more about our history.
Your garden is likely already thriving. If you didn't plant a corner or a container with red and white flowers it's not too late. Garden centres are selling off their summer annuals. Buy a few red and white ones, plant them in a small pot and put it on the table on your patio or balcony. Add a small Canadian flag to the container.
Do something typically Canadian. Go for a walk in a conservation area or park. Rent a canoe and spend an hour or two paddling on one of our many lakes and rivers.
Have a family picnic either in a park or your own back yard. Get out old blankets to sit on. Corn is in season so include corn on the cob on the menu. Sandwiches were popular in 1867 and are still a staple of picnics today. Toast Canada 150 with a Canadian wine or lemonade (a favourite Victorian picnic drink). If you want to duplicate a truly Victorian picnic of 1867, here's a great website. http://www.victoriana.com/partyplanning/how-to-have-a-victorian-picnic.html
Give a gift to Canada. Canadians have always been generous donors to worthy causes. This month donate to a charity of your choice in honour of Canada's 150 years.

Summer/Early Fall Newsletter
The latest newsletter is now online. There is information about coming events and a full list of dates and activities for our Open Sundays this year.
Click here to find the newsletter.
September Open Sunday
Sept. 10, 1 to 4 pm
Old Fashioned Schooldays
The Old Britannia Schoolhouse recreates the late 19th and early 20th century schoolroom. There are desks of various sizes since children ranged in age from 6 to early teens. Some are double desks suitable for two children. Teaching equipment and supplies are typical of the era. There are slates as well as nib pens and ink wells. Children learned about the planets and the universe by operating a planetarium. In September they would see the results of the schoolhouse gardens they had planted in the spring.
Come and see what it would be like to attend a one room schoolhouse. Write on a slate. Find the planetarium. Make an old fashioned bonnet.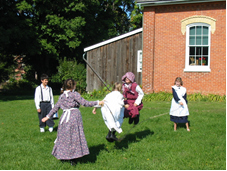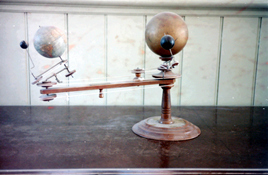 Brampton Fair
September 15, 16 and 17, 2017
The theme of this year's fair is "Celebrating Canada's 150th". Friends of the Schoolhouse are looking forward to participating again. We will be located as usual at the east end of the Livestock Building. It is an interesting location in the midst of the cattle showings, the poultry, rabbits and other critter exhibits, as well as 4H projects and the fruit and vegetable entries. We are hoping to see the Britannia Schoolhouse garden win some ribbons again this year!
As well as information about the Schoolhouse and the Friends' events, we will have a table full of our very popular old fashioned toys and games for trying out. There will also be a number of small items to purchase.
Again this year our book, Echoes of the Past, the Rural One Room Schools of Peel County will be featured.
The fairgrounds are located at Heart lake Road and Old School Road in Caledon. We will be there Friday, Saturday and Sunday, September 15,16 and 17. The buildings open at 10:00 a.m..
Strawberry Social 2017
The first day of summer coincided with the Strawberry Social. We had a very pleasant day and the attendance was good. We were pleased to welcome groups from two retirement homes, Southbrook in Brampton and Amica in Mississauga. As usual the biscuits came from Kate's Town Talk Bakery in Streetsville and the Ontario berries were obtained through the Prince of Wales Market in Huttonville. Merlyn's Unique Caterers associated with the Peel Board cafeteria provided the delicious whipped cream. Tea and coffee were served in our fancy tea cups. Crisp white tablecloths overlaid with gingham cloths and topped with all of our strawberry decorations, as well as fresh flowers, provided a festive atmosphere.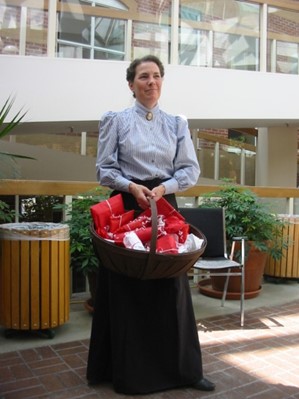 Time to Renew Your Membership
Our membership year runs from January to December. Membership forms for renewal or new membership are on this website. Click here to get the form.
Echoes of the Past
This book, written and published by Friends of the Schoolhouse, documents the history of all of the rural one room schools that existed in Peel County. Full colour, 208 pages, $30 It is available at all our events or from any member of the Friends of the Schoolhouse Executive. There is a $10 charge for mailing.
Book Talks
Since the book, Echoes of The Past, was published in May 2016, the writers have been giving illustrated talks to historical societies and other interested groups. We talk about the book and tailor each presentation to suit the audience and the one room schools that were in their local area.
If your group would be interested in having a presentation, please contact Jean (905 826 3475) jkrob@rogers.com for further information.
Membership Drive
If you haven't already renewed your membership in the Friends of the Schoolhouse, it's time to do so. Our membership year runs from January to December. We welcome new members. Membership forms can be downloaded and printed using this link. Members play a vital part in preserving the schoolhouse and maintaining and expanding the programs for children who spend a day experiencing school life of long ago. Members receive four newsletters a year, additional notices of events, and are invited to an appreciation "Lemonade on the Lawn" event in July. In addition there are opportunities to volunteer on committees and at events.
Come and Join Us

If you have a couple of hours a month or only a few hours once or twice a year you could help us support the schoolhouse and its programs. The executive committee meets on the second Tuesday of the month from September to June to conduct the business of the Friends of the Schoolhouse and to plan programs and events. Our meetings are from 4 to 6 in the afternoon at the schoolhouse. Volunteers help on an occasional basis with our events and in the gardens. Not only do we support a worthwhile cause, we have a lot of fun doing it. Email our Executive Director Shirley Hoad at shoad@bell.net, if you have a few hours to spare and an interest in helping preserve a community treasure for future generations of children.
Open Sundays 2017-2018
1 to 4 pm - Something new every month from September to June with light refreshments.
For more information about our Open Sunday programs go to the Events page.
Mark Your Calendar
To see a list of our year's events go to the Events page.
Researching our Roots
There is still much more to discover about the Old Britannia Schoolhouse and other early one room schools. Read below for a wish list of "Wanted" items that will help us learn more about our historic schoolhouse.
WANTED
For use in a book on one-room schools in Peel County:
Minute Books
Cash Books
Class Photos
Report Cards
Prize Ribbons
Medals
Certificates
Shields
Contracts
Trustee Memorabilia
Teacher Memorabilia
Newspaper Clippings
School Registers
Your contribution will be acknowledged. Materials supplied will either be returned to you or donated to the Peel County Archives on your behalf.
SLATE Group
SLATE stands for So Let's All Talk Education (in a one room school), or as one witty person suggested, being truly Canadian, So Let's All Talk Eh! Each year for a day in the spring people involved in working or volunteering in living history one room schoolhouses get together to exchange ideas and learn from each other. We meet at a different schoolhouse location each year which gives everyone the opportunity to experience how living history is presented in a setting different from their own.

If you are a staff member or volunteer in a living history one room schoolhouse and would like more information about SLATE, contact:

Christine Chapel
The Old Britannia Schoolhouse
5576 Hurontario Street
Mississauga, ON
L5R 1B3
905-890-1010 ext 2911