Current News

Welcome to our website!

The Friends of the Schoolhouse web site will keep you informed about The Old Britannia Schoolhouse and the activities and events planned by the Friends' organization. We encourage you to check this site often. New information will be added monthly.
Summer at the Schoolhouse
The schoolroom is quiet during July and August but that doesn't mean nothing is happening at the schoolhouse. Our historic flower gardens are thriving along with the weeds. Most days in the summer you will find one or more of our volunteer gardeners trying to bring the weeds under control. It has been an exceptionally hot July so watering has been a challenge too.
When the Britannia Schoolhouse was operating from 1852 to 1959 flower gardens were not a priority and wildflowers and weeds grew at will. The schoolyard gardens were vegetable gardens planted by students as part of the agriculture curriculum. We carry on this tradition today and the vegetables produced regularly win prizes at the Brampton Fall Fair. The vegetable gardens the children planted in the spring are thriving - and so are the rabbits and chipmunks that have eaten the corn stalks in the Three Sisters garden. Indigenous peoples knew how to conserve water and plant symbiotic crops- plants that would grow well together and support each other. Thus the Three Sisters garden. A corn plant was planted in the centre of a mound of earth. Around the corn was planted beans that would grow up the corn stalks which offered them support. On the outside of the round mound of earth was planted squash. It's large leaves shaded the roots of the other plants and conserved water. This allowed for successful crops even in the semi desert regions of the mid-west.
Friends of the Schoolhouse hold one event during the summer. It is a way of thanking our members and the staff of the Peel District School Board who do so much to support Friends of the Schoolhouse. On July 17 we held our annual Lemonade on the Lawn and offered lemonade and cookies to visitors. The heat wave that had lasted for weeks finally broke and the weather was pleasantly warm and sunny with a cool breeze.
Now we look toward the start of school in September. Back to School ads started appearing half way through July and the Friends have all their activities planned for 2018- 2019. We look forward to seeing you at the schoolhouse.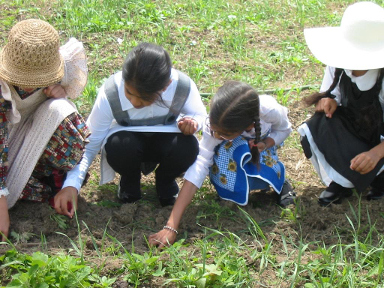 I'm Bored!
Some quiet activities for the end of summer
By August many children are looking for new things to do. Getting ready for a return to school usually isn't one of them. Here are some suggestions.
Read a Story, Write a Story
Find a quiet spot to read a short story you haven't read before or one you read and liked. Then take a pad of paper and a pencil and write your own story. It often helps to do this outside where you can be inspired by what is around you - birds, animals, people, the weather (is a storm coming/), sound of a siren. Let your imagination run wild.
Draw What You See
You can do this anywhere; in your bedroom, in your backyard, on your balcony, in a park. You need a clean sheet of paper and a pencil. You can also use coloured pencils if you like. Look around you carefully and decide what you would like to draw. It could be a whole garden with lots of flowers or just one book sitting on your desk. Your drawing doesn't have to be a perfect photographic representation. Lots of famous artists added something in their painting that wasn't actually there or drew buildings that looked as if they were falling over.
Do An Experiment
There is a small world of living creatures in our gardens that we rarely see. How many different insects, caterpillars and beetles can you find? Pick a small area in your own garden or in a local park, look closely and you may be surprised at what you find. How many can you identify? This website may help you.
https://www.insectidentification.org/insects-by-state.asp?thisState=Ontario
Play a Game With a Friend
An old fashioned game that isn't played much anymore is hopscotch. You need a cement area like a driveway, some chalk and a flat stone or bean bag for each player. Draw a "court" using the pattern below. Be sure the squares are large enough for your foot to land there.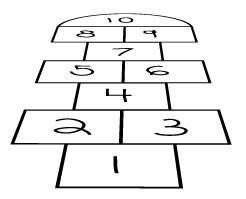 How to play:
Put a marker on square 1. Any square that has a marker must be jumped over. Squares that are side by side (eg. 2 and 3, 5 and 6. 8 and 9) can be landed on two feet at the same time unless one of them has a marker. Player 1 begins by jumping over square 1 and jumps to the end, turns around and jumps back stopping on squares 2 and 3 to pick up the marker. Player 1 finishes by jumping on square 1 which is now empty and then gives the marker to Player 2.. Player 2 throws the marker onto the next square. If at any time a player steps on a line or outside a square or misses when throwing the marker into the square, the player misses a turn. Landing the marker on a square becomes more difficult at the far end of the "court". The player who successfully reaches square 10 with the marker wins.
Time to Renew Your Membership
Our membership year runs from January to December. Membership forms for renewal or new membership are on this website. Click here to get the form.
Echoes of the Past
This book, written and published by Friends of the Schoolhouse, documents the history of all of the rural one room schools that existed in Peel County. Full colour, 208 pages, $30 It is available at all our events or from any member of the Friends of the Schoolhouse Executive. There is a $10 charge for mailing.
Book Talks
Since the book, Echoes of The Past, was published in May 2016, the writers have been giving illustrated talks to historical societies and other interested groups. We talk about the book and tailor each presentation to suit the audience and the one room schools that were in their local area.
If your group would be interested in having a presentation, please contact Jean (905 826 3475) jkrob@rogers.com for further information.
Membership Drive
If you haven't already renewed your membership in the Friends of the Schoolhouse, it's time to do so. Our membership year runs from January to December. We welcome new members. Membership forms can be downloaded and printed using this link. Members play a vital part in preserving the schoolhouse and maintaining and expanding the programs for children who spend a day experiencing school life of long ago. Members receive four newsletters a year, additional notices of events, and are invited to an appreciation "Lemonade on the Lawn" event in July. In addition there are opportunities to volunteer on committees and at events.
Come and Join Us

If you have a couple of hours a month or only a few hours once or twice a year you could help us support the schoolhouse and its programs. The executive committee meets on the second Tuesday of the month from September to June to conduct the business of the Friends of the Schoolhouse and to plan programs and events. Our meetings are from 4 to 6 in the afternoon at the schoolhouse. Volunteers help on an occasional basis with our events and in the gardens. Not only do we support a worthwhile cause, we have a lot of fun doing it. Email our Executive Director Shirley Hoad at shoad@bell.net, if you have a few hours to spare and an interest in helping preserve a community treasure for future generations of children.
Open Sundays 2017-2018
1 to 4 pm - Something new every month from September to June with light refreshments.
For more information about our Open Sunday programs go to the Events page.
Mark Your Calendar
To see a list of our year's events go to the Events page.
Researching our Roots
There is still much more to discover about the Old Britannia Schoolhouse and other early one room schools. Read below for a wish list of "Wanted" items that will help us learn more about our historic schoolhouse.
WANTED
For use in a book on one-room schools in Peel County:
Minute Books
Cash Books
Class Photos
Report Cards
Prize Ribbons
Medals
Certificates
Shields
Contracts
Trustee Memorabilia
Teacher Memorabilia
Newspaper Clippings
School Registers
Your contribution will be acknowledged. Materials supplied will either be returned to you or donated to the Peel County Archives on your behalf.
SLATE Group
SLATE stands for So Let's All Talk Education (in a one room school), or as one witty person suggested, being truly Canadian, So Let's All Talk Eh! Each year for a day in the spring people involved in working or volunteering in living history one room schoolhouses get together to exchange ideas and learn from each other. We meet at a different schoolhouse location each year which gives everyone the opportunity to experience how living history is presented in a setting different from their own.

If you are a staff member or volunteer in a living history one room schoolhouse and would like more information about SLATE, contact:

Christine Chapel
The Old Britannia Schoolhouse
5576 Hurontario Street
Mississauga, ON
L5R 1B3
905-890-1010 ext 2911