Current News

Welcome to our website!

The Friends of the Schoolhouse web site will keep you informed about The Old Britannia Schoolhouse and the activities and events planned by the Friends' organization. We encourage you to check this site often. New information will be added monthly.
Merry Christmas from your Schoolhouse Friends

A Different Kind of Advent Calendar
Advent calendars were common in Victorian homes and are still popular today. A calendar with the 24 days before Christmas is a fun way for children to count the days. Each day has a little "door" which you open to reveal a surprise – a message or sometimes a special treat like a candy.
The Victorians also had another way of celebrating Advent. In the centre of the dining room table was placed a wreath with four candles to mark the four weeks of Advent. Each candle had a different meaning: faith, joy, love, peace. One candle was lit on the first Sunday of Advent and one more on each following Sunday. Three candles were the same colour and a fourth, a different colour, was the last to be lit on the final Sunday before Christmas. Sometimes a fifth candle, usually white, was placed in the centre of the ring and lit on Christmas Eve.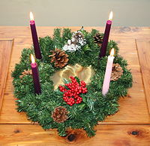 Santa Everywhere
The tradition of a kind man bringing gifts to children likely began with Saint Nicholas, a fourth century bishop who gave gold to poor children. The story and legends spread across Europe over the centuries. Every country seemed to have its own version of the story but several things seemed consistent. Saint Nicholas gave gifts to children at Christmas and he always had a white beard.
In France he was known as Pere Noel, Father Christmas,, Russian children called him Koyla and he was dressed in elaborate robes of a bishop. In Sweden he carried sheaves of wheat. The German Santa was known as Petznickel or the name we are more familiar with, Kris Kringle. The Dutch Sinter Klaas dressed in a bishop's robe and rode a white horse while the British Father Christmas rode a goat.
The modern image we have of Santa Claus probably was established with the publication in 1823 of the poem A Visit from St. Nicholas and drawings by Thomas Nast. The North American Santa was a "jolly old elf", round bellied, white bearded, bespeckled, red suited with white fur trim and travelling with a sleigh and 8 reindeer instead of a horse or goat. A ninth reindeer, Rudolph, appeared in 1939 and became universally popular with the release of the song, Rudolph the Red Nosed Reindeer, in 1949.
A Visit from St. Nicholas
BY CLEMENT CLARKE MOORE
'Twas the night before Christmas, when all through the house
Not a creature was stirring, not even a mouse;
The stockings were hung by the chimney with care,
In hopes that St. Nicholas soon would be there;
The children were nestled all snug in their beds;
While visions of sugar–plums danced in their heads;
And mamma in her 'kerchief, and I in my cap,
Had just settled our brains for a long winter's nap,
When out on the lawn there arose such a clatter,
I sprang from my bed to see what was the matter.
Away to the window I flew like a flash,
Tore open the shutters and threw up the sash.
The moon on the breast of the new–fallen snow,
Gave a lustre of midday to objects below,
When what to my wondering eyes did appear,
But a miniature sleigh and eight tiny rein-deer,
With a little old driver so lively and quick,
I knew in a moment he must be St. Nick.
More rapid than eagles his coursers they came,
And he whistled, and shouted, and called them by name:
"Now, Dasher! now, Dancer! now Prancer and Vixen!
On, Comet! on, Cupid! on, Donner and Blitzen!
To the top of the porch! to the top of the wall!
Now dash away! dash away! dash away all!"
As leaves that before the wild hurricane fly,
When they meet with an obstacle, mount to the sky;
So up to the housetop the coursers they flew
With the sleigh full of toys, and St. Nicholas too–
And then, in a twinkling, I heard on the roof
The prancing and pawing of each little hoof.
As I drew in my head, and was turning around,
Down the chimney St. Nicholas came with a bound.
He was dressed all in fur, from his head to his foot,
And his clothes were all tarnished with ashes and soot;
A bundle of toys he had flung on his back,
And he looked like a pedler just opening his pack.
His eyes–how they twinkled! his dimples, how merry!
His cheeks were like roses, his nose like a cherry!
His droll little mouth was drawn up like a bow,
And the beard on his chin was as white as the snow;
The stump of a pipe he held tight in his teeth,
And the smoke, it encircled his head like a wreath;
He had a broad face and a little round belly
That shook when he laughed, like a bowl full of jelly.
He was chubby and plump, a right jolly old elf,
And I laughed when I saw him, in spite of myself;
A wink of his eye and a twist of his head
Soon gave me to know I had nothing to dread;
He spoke not a word, but went straight to his work,
And filled all the stockings; then turned with a jerk,
And laying his finger aside of his nose,
And giving a nod, up the chimney he rose;
He sprang to his sleigh, to his team gave a whistle,
And away they all flew like the down of a thistle.
But I heard him exclaim, ere he drove out of sight–
"Happy Christmas to all, and to all a good night!"

Bread Sauce
An old-fashioned alternative to gravy
If you've read the Anne of Green Gables books you may remember that Anne prepared a bread sauce one time. Apparently this was a common substitute for gravy in the early 1900s. Here is the recipe.
Ingredients:
2 Tbsp butter
1 cup stale bread crumbs
1 ½ cup milk
1 onion
1 bay leaf
6 cloves
Salt and pepper

Stud the onion all over with the cloves.
Melt 1 Tbsp butter in a skillet. When the butter begins to sizzle, stir in ½ cup of the breadcrumbs. Cook over medium heat until they are nicely browned. Set aside.
Put the onion with the cloves, the bay leaf and the milk in a small pot. Heat slowly until tiny bubbles form around the edges. Remove from heat before the milk boils. Let cool for 15 minutes.
Put the remaining ½ cup of breadcrumbs in a heavy sauce pan over medium heat and pour the scalded milk over them. Stir and simmer the mixture for about twenty minutes. Add remaining butter, salt and pepper. Keep the sauce warm until ready to serve.
Pour bread sauce over slices of roast turkey and sprinkle the browned breadcrumbs on top.
Makes about 2 cups.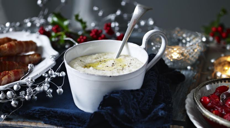 Time to Renew Your Membership
Our membership year runs from January to December. Membership forms for renewal or new membership are on this website. Click here to get the form.
Echoes of the Past
This book, written and published by Friends of the Schoolhouse, documents the history of all of the rural one room schools that existed in Peel County. Full colour, 208 pages, $30 It is available at all our events or from any member of the Friends of the Schoolhouse Executive. There is a $10 charge for mailing.
Book Talks
Since the book, Echoes of The Past, was published in May 2016, the writers have been giving illustrated talks to historical societies and other interested groups. We talk about the book and tailor each presentation to suit the audience and the one room schools that were in their local area.
If your group would be interested in having a presentation, please contact Jean (905 826 3475) jkrob@rogers.com for further information.
Membership Drive
If you haven't already renewed your membership in the Friends of the Schoolhouse, it's time to do so. Our membership year runs from January to December. We welcome new members. Membership forms can be downloaded and printed using this link. Members play a vital part in preserving the schoolhouse and maintaining and expanding the programs for children who spend a day experiencing school life of long ago. Members receive four newsletters a year, additional notices of events, and are invited to an appreciation "Lemonade on the Lawn" event in July. In addition there are opportunities to volunteer on committees and at events.
Come and Join Us

If you have a couple of hours a month or only a few hours once or twice a year you could help us support the schoolhouse and its programs. The executive committee meets on the second Tuesday of the month from September to June to conduct the business of the Friends of the Schoolhouse and to plan programs and events. Our meetings are from 4 to 6 in the afternoon at the schoolhouse. Volunteers help on an occasional basis with our events and in the gardens. Not only do we support a worthwhile cause, we have a lot of fun doing it. Email our Executive Director Shirley Hoad at shoad@bell.net, if you have a few hours to spare and an interest in helping preserve a community treasure for future generations of children.
Open Sundays 2018-2019
1 to 4 pm - Something new every month from September to June with light refreshments.
For more information about our Open Sunday programs go to the Events page.
Mark Your Calendar
To see a list of our year's events go to the Events page.
Researching our Roots
There is still much more to discover about the Old Britannia Schoolhouse and other early one room schools. Read below for a wish list of "Wanted" items that will help us learn more about our historic schoolhouse.
WANTED
For use in a book on one-room schools in Peel County:
Minute Books
Cash Books
Class Photos
Report Cards
Prize Ribbons
Medals
Certificates
Shields
Contracts
Trustee Memorabilia
Teacher Memorabilia
Newspaper Clippings
School Registers
Your contribution will be acknowledged. Materials supplied will either be returned to you or donated to the Peel County Archives on your behalf.
SLATE Group
SLATE stands for So Let's All Talk Education (in a one room school), or as one witty person suggested, being truly Canadian, So Let's All Talk Eh! Each year for a day in the spring people involved in working or volunteering in living history one room schoolhouses get together to exchange ideas and learn from each other. We meet at a different schoolhouse location each year which gives everyone the opportunity to experience how living history is presented in a setting different from their own.

If you are a staff member or volunteer in a living history one room schoolhouse and would like more information about SLATE, contact:

Christine Chapel
The Old Britannia Schoolhouse
5576 Hurontario Street
Mississauga, ON
L5R 1B3
905-890-1010 ext 2911