Current News

Welcome to our website!

The Friends of the Schoolhouse web site will keep you informed about The Old Britannia Schoolhouse and the activities and events planned by the Friends' organization. We encourage you to check this site often. New information will be added monthly.
Latest News
Our Summer/Early Fall newsletter is now online. Click here to get it. It has news of all our recent events and information about all of the coming events for this year.
Open Sunday October
1 to 4 pm
Harvest Time
Visit the school vegetable garden and the orchard. Students who visited the schoolhouse in the spring planted the garden. Those who visited in the fall saw the vegetables that had grown over the summer. Some vegetables were entered in the Brampton Fair and won prizes. Look for the Three Sisters plantings. The early settlers learned from the aboriginals how to plant corn, beans and squash together so the corn would support the beans and the squash leaves would shade the ground and act as mulch.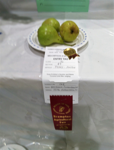 Canadian Thanksgiving
There have been many celebrations of thanksgiving in Canada beginning as early as 1578 when Martin Frobisher and his crew had a celebration of thanksgiving for their safe journey to the eastern Arctic. The first official annual Canadian Thanksgiving was on November 6, 1879. It was not until 1957 that Canada proclaimed the second Monday in October as Thanksgiving Day. Although the day could celebrate thankfulness for a variety of things, including the recovery from illness of Queen Victoria's son, it was most often a harvest thanksgiving celebrating a successful end to the growing season and a bountiful food supply for the winter.
In 1904 Harper's Bazaar magazine published a menu for a Thanksgiving dinner. Here it is if you'd like to try it this year. The Victorians were obviously much heartier eaters than we are.
Menu
Oysters on the half-shell; brown-bread tartines; celery; radishes.
Clear soup; grated cheese.
Fish fillets, sauce Hollandaise; potato balls.
Cucumber farci, cream sauce.
Roast turkey; sweet-potato soufflé; glazed turnips; individual moulds of cranberry jelly; mulled cider.
Roman punch in Colonial hats.
Halved quail on toast; celery salad with tiny onions.
Blazing mince pie; cheese.
Ice~cream in pumpkin forms; little cakes.
Coffee.
Pass horseradish and Cayenne pepper with the oysters, and small sandwiches of brown bread and butter. With the soup, a strong, clear bouillon, pass grated American, or, better, Parmesan cheese. The fish fillets may be made of halibut, of small cod, or of whitefish, cut in oblong pieces, dipped in egg and crumbs, and fried in deep fat; cover with the sauce before passing. The entrée is a novelty, but one easily prepared. Get one of the long English cucumbers which are to be had all winter at the fruit-shops from one to two feet in length, peel it, cut in half lengthwise, and remove a small portion of the seeds. Fill with a forcemeat made of delicate veal or chicken, chopped and then pounded fine, and well seasoned, and wrap in a long cheesecloth strip and fasten. Simmer very gently for twenty minutes, remove the cloth, and lay on a long platter; cut in pieces four inches long, but do not separate them; cover with a rich white sauce and serve very hot. Omit this entrée if it is too difficult to manage, or substitute asparagus with butter sauce.
Glazed turnips are such an old-fashioned feature of a Thanksgiving dinner that they should not be omitted, but disregard the other old fashion of having in addition half a dozen vegetables; the dinner is too long and heavy to have more than one. Stuff the turkey with either oysters or chestnuts, and serve with giblet sauce. Set the cranberry jelly in very small individual moulds, and pass on a round, flat glass dish.
Sherbet is not seen as often as formerly on the dinner-table, but with so many solid dishes it will be found an agreeable and cooling course for once. A good Roman punch or an orange ice will be excellent, and if not served in the Colonial hats it may be put in glass cups as usual.
The salad which is passed with the quail has a new feature; after the shredded celery has been dressed and chilled it is sprinkled all over with the tiny onions no larger than French pease which come bottled from Germany; the taste is so delicate as to be scarcely perceptible, but still it is enough to give a new flavor particularly good with game.
Send the mince pie to the table blazing, and in order to prevent the flame from dying down too soon, surround the pie with a circle of overlapping pieces of out sugar, well saturated with the brandy or alcohol. The hot, mulled cider which has been served with the turkey may again appear with the mince pie. After this comes the ice-cream, in pumpkin forms, or in artificial pumpkins, or in one large pumpkin mould. Any rich French cream will do, highly colored with orange.
Instead of serving salted almonds through the dinner try using a mixture of all sorts of nuts-pecans, large almonds, English walnuts, and filberts; it makes a pleasant change. Pass the bonbons with the coffee, and if your table is all in yellow, have only yellow and white, or yellow and chocolate, candies.
Reprinted from Harper's Bazaar 1904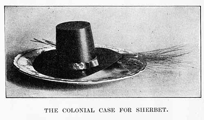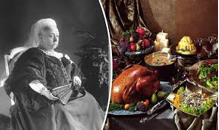 Time to Renew Your Membership
Our membership year runs from January to December. Membership forms for renewal or new membership are on this website. Click here to get the form.
Echoes of the Past
This book, written and published by Friends of the Schoolhouse, documents the history of all of the rural one room schools that existed in Peel County. Full colour, 208 pages, $30 It is available at all our events or from any member of the Friends of the Schoolhouse Executive. There is a $10 charge for mailing.
Book Talks
Since the book, Echoes of The Past, was published in May 2016, the writers have been giving illustrated talks to historical societies and other interested groups. We talk about the book and tailor each presentation to suit the audience and the one room schools that were in their local area.
If your group would be interested in having a presentation, please contact Jean (905 826 3475) jkrob@rogers.com for further information.
Membership Drive
If you haven't already renewed your membership in the Friends of the Schoolhouse, it's time to do so. Our membership year runs from January to December. We welcome new members. Membership forms can be downloaded and printed using this link. Members play a vital part in preserving the schoolhouse and maintaining and expanding the programs for children who spend a day experiencing school life of long ago. Members receive four newsletters a year, additional notices of events, and are invited to an appreciation "Lemonade on the Lawn" event in July. In addition there are opportunities to volunteer on committees and at events.
Come and Join Us

If you have a couple of hours a month or only a few hours once or twice a year you could help us support the schoolhouse and its programs. The executive committee meets on the second Tuesday of the month from September to June to conduct the business of the Friends of the Schoolhouse and to plan programs and events. Our meetings are from 4 to 6 in the afternoon at the schoolhouse. Volunteers help on an occasional basis with our events and in the gardens. Not only do we support a worthwhile cause, we have a lot of fun doing it. Email our Executive Director Shirley Hoad at shoad@bell.net, if you have a few hours to spare and an interest in helping preserve a community treasure for future generations of children.
Open Sundays 2018-2019
1 to 4 pm - Something new every month from September to June with light refreshments.
For more information about our Open Sunday programs go to the Events page.
Mark Your Calendar
To see a list of our year's events go to the Events page.
Researching our Roots
There is still much more to discover about the Old Britannia Schoolhouse and other early one room schools. Read below for a wish list of "Wanted" items that will help us learn more about our historic schoolhouse.
WANTED
For use in a book on one-room schools in Peel County:
Minute Books
Cash Books
Class Photos
Report Cards
Prize Ribbons
Medals
Certificates
Shields
Contracts
Trustee Memorabilia
Teacher Memorabilia
Newspaper Clippings
School Registers
Your contribution will be acknowledged. Materials supplied will either be returned to you or donated to the Peel County Archives on your behalf.
SLATE Group
SLATE stands for So Let's All Talk Education (in a one room school), or as one witty person suggested, being truly Canadian, So Let's All Talk Eh! Each year for a day in the spring people involved in working or volunteering in living history one room schoolhouses get together to exchange ideas and learn from each other. We meet at a different schoolhouse location each year which gives everyone the opportunity to experience how living history is presented in a setting different from their own.

If you are a staff member or volunteer in a living history one room schoolhouse and would like more information about SLATE, contact:

Christine Chapel
The Old Britannia Schoolhouse
5576 Hurontario Street
Mississauga, ON
L5R 1B3
905-890-1010 ext 2911