Current News

Welcome to our website!

The Friends of the Schoolhouse web site will keep you informed about The Old Britannia Schoolhouse and the activities and events planned by the Friends' organization. We encourage you to check this site often. New information will be added monthly.
October Open Sunday
October 13
1 to 4 pm
The Autumn Garden
Planting a schoolhouse vegetable garden was part of the curriculum in the late 1800s and early 1900s. When we were preparing the area for our historic gardens, Ben Madill, who attended Britannia in the 1920s, recalled exactly where his little plat had been. Today students who visit the schoolhouse for a day help to plant a garden in the spring and harvest it in the fall. Take a walk to the schoolhouse vegetable garden before it goes to bed for the winter.
Preserving the vegetables and fruits for the winter was an important task in a small rural community. Today preserving is more a pleasurable hobby than a necessity. When you've visited the garden, come to the schoolhouse and learn how families preserved food for the long winter months.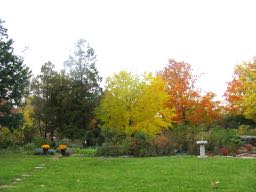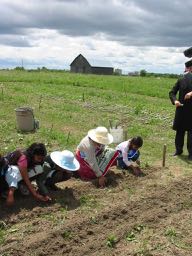 Preserving Tomatoes
Working with tomatoes always required special care. If not done correctly the preserved tomatoes could cause serious illness or even death. Here is a recipe from Chatelaine magazine showing the right way to do it.
Ingredients
2.75 kg tomatoes, without blemishes
6 tbsp bottled lemon juice
3/4 tsp salt
6 500-mL Mason jars
Instructions
FILL a canner with water, leaving a 2-in. headspace. Boil over high.
BOIL a large pot of water. Cut an X in the bottom of each tomato, and remove cores with a paring knife. Add tomatoes, in batches, to boiling water. Do not crowd pot. Boil 30 seconds. Using a slotted spoon, remove to a large bowl filled with cold water. When cool enough to handle, peel off skins and discard.
FILL each hot, clean Mason jar with 1 tbsp lemon juice and 1/8 tsp salt. Pack tomatoes into jars, leaving a 1/2-in. headspace. Press tomatoes into the jar, using a wooden spoon, until the space between them is filled with juice. Stir each jar with a non-metallic utensil to remove air bubbles. Wipe rims clean with damp paper towel, then cover with lid. Close with screw band.
ADD jars to boiling water in canner, ensuring that they are covered by at least 2 in. of water. Bring to a rolling boil, then process, covered, for 1 hour 25 min. Check occasionally to make sure water is still 1 in. above jars. Add more hot water if needed. Turn off heat, remove canner lid and let stand, 5 min. Remove jars and cool. Check for seal after 24 hours. Lids should not flex up and down when centre is pressed. If they do, store in the fridge. Processed jars keep well up at room temperature for up to 1 year.
Something Else to Do to Preserve Tomatoes
If you are looking for a new and different condiment to serve with turkey, chicken or pork or just as a treat on toast, here is a something to try.
Tomato Jam
3 lbs good ripe tomatoes, cored and coarsely chopped
2 cups sugar
4 T lime or lemon juice
2 T fresh grated or minced ginger
2 tsp ground cumin
1/2 tsp ground cinnamon
1/4 tsp ground cloves
2 tsp red pepper flakes
Combine all ingredients in a medium saucepan. Bring to boil, stirring occasionally. Reduce to simmer until mixture is thick and consistency of jam. Cool. Put in preserving jars. Store in frig 1 week or freeze. For longer storage put in preserving jars and process in boiling water for 10 minutes.
Note: It can take a couple of hours to boil down depending on how juicy the tomatoes are. For a less spicy jam reduce amount of pepper flakes or eliminate entirely.
Learning in a One Room Schoolhouse
Come visit our one room schoolhouse. It's a great way to learn about the history of early education in Peel. Much has changed in 150 years, but much remains the same. As September nears students begin to anticipate the first day of school – with varying degrees of enthusiasm. In the late 1800s and early 1900s attendance for the older boys might have been irregular since they were needed to help with the harvest. Today schools have electricity, indoor washrooms and computers. Although Britannia now has electricity and indoor washrooms these were unknown at the turn of the 20th century. Come and experience what it was like in those years. Write on a slate, wear the dunce cap if you chased farmer Brown's cow on the way to school. Lots of fun for everyone.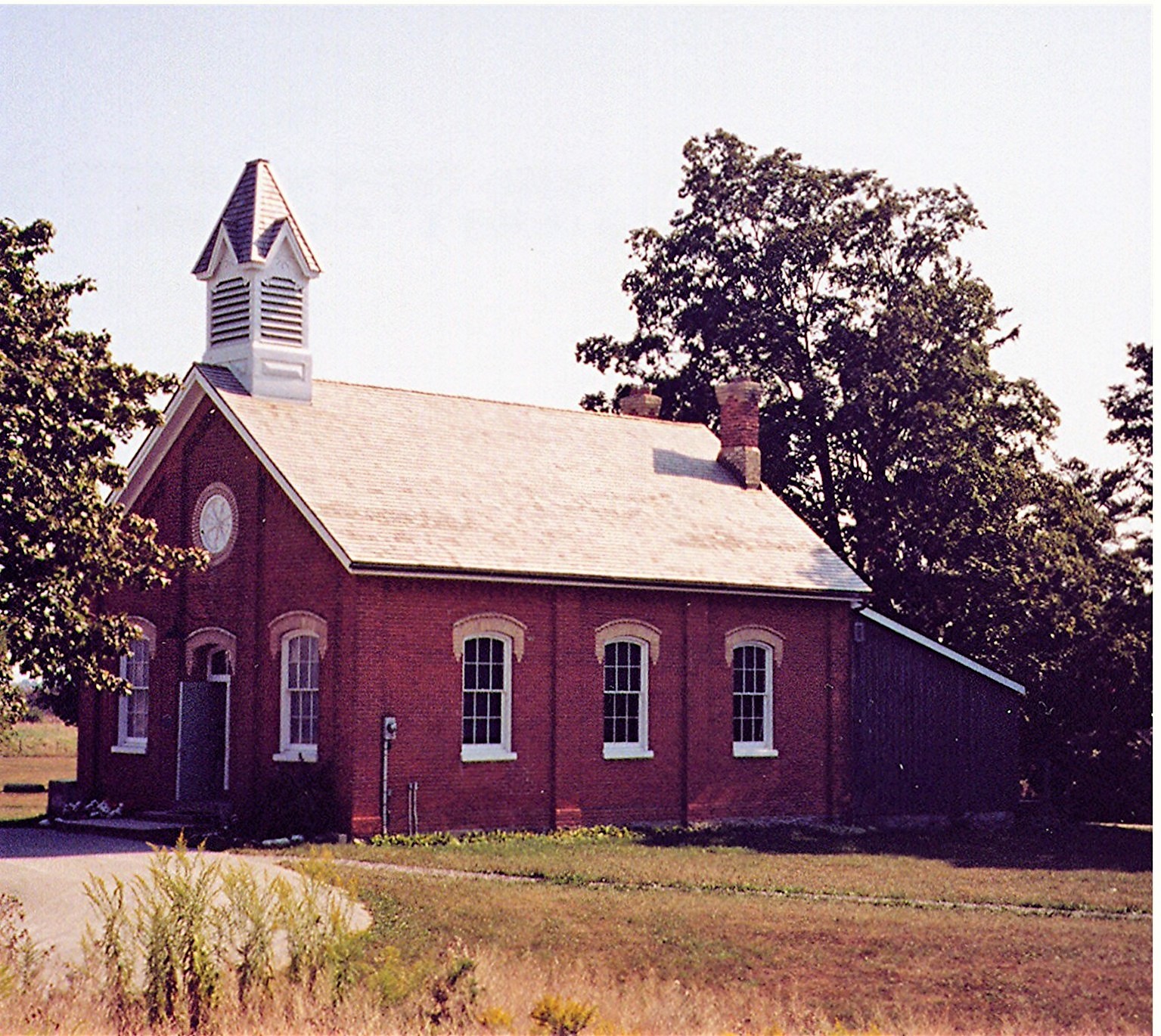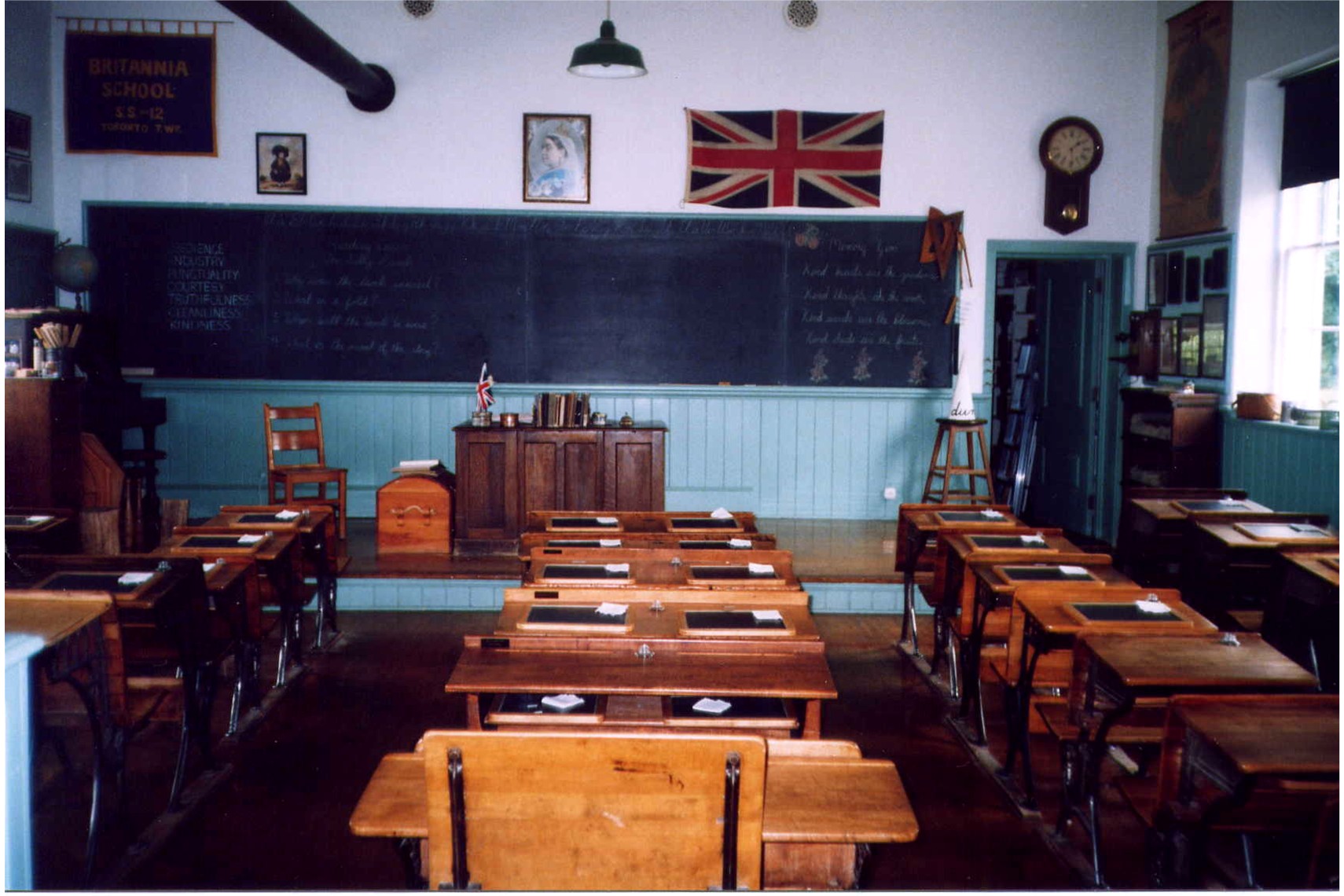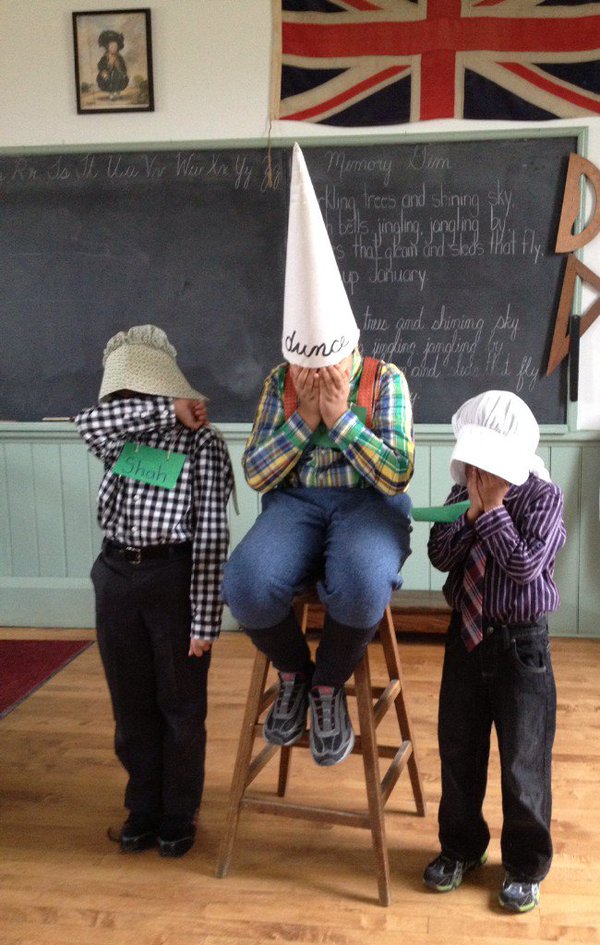 Coming Events
Be sure to check our Events Page for all the activities and events planned for 2019-2020. In addition to Open Sundays every second Sunday afternoon of the month, there will be a Christmas Sale at the Board Office, the annual Christmas Open House and Sale and Heritage Week celebrations.
The Latest News
Our Summer/Early Fall newsletter is now online. Click here to find it. Interesting articles about summer activities at historical sites in Ontario, a recipe for no-bake gooey brownies and a listing of all our coming events for this year.
Are You Ready For Schoolyard Game?
Students at a one room schoolhouse stayed at school all day so there was lots of time at recess and lunch hour to play games. Here are a few today's children might not know.
Roll the Hoop
A light weight hoop, perhaps a barrel stave and a stick are needed for this game. The object of the game is to roll the hoop along, pushing it with the stick. See who can make it roll the longest and the farthest.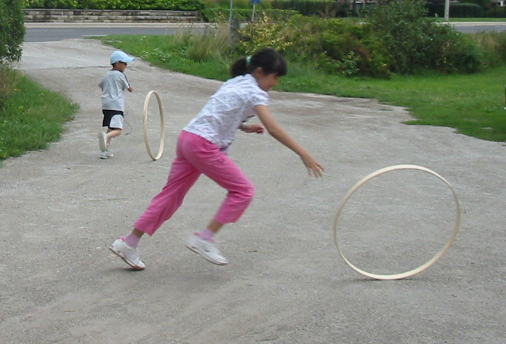 Graces
This was mostly played by girls. A small hoop, sometimes decorated with ribbons, is tossed back and forth and caught with sticks.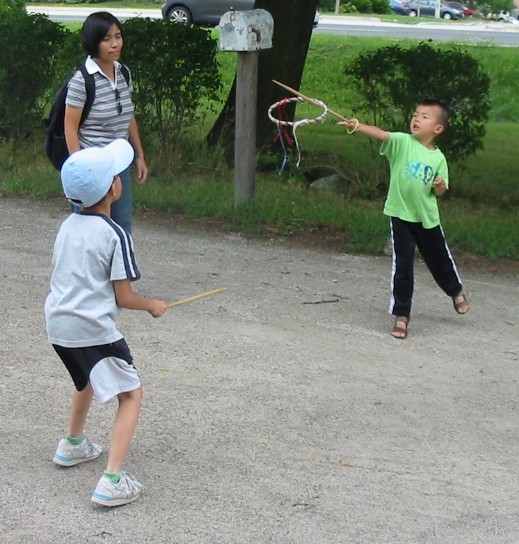 Stilt Walking
A test to see who can walk the farthest and stay up the longest on the stilts.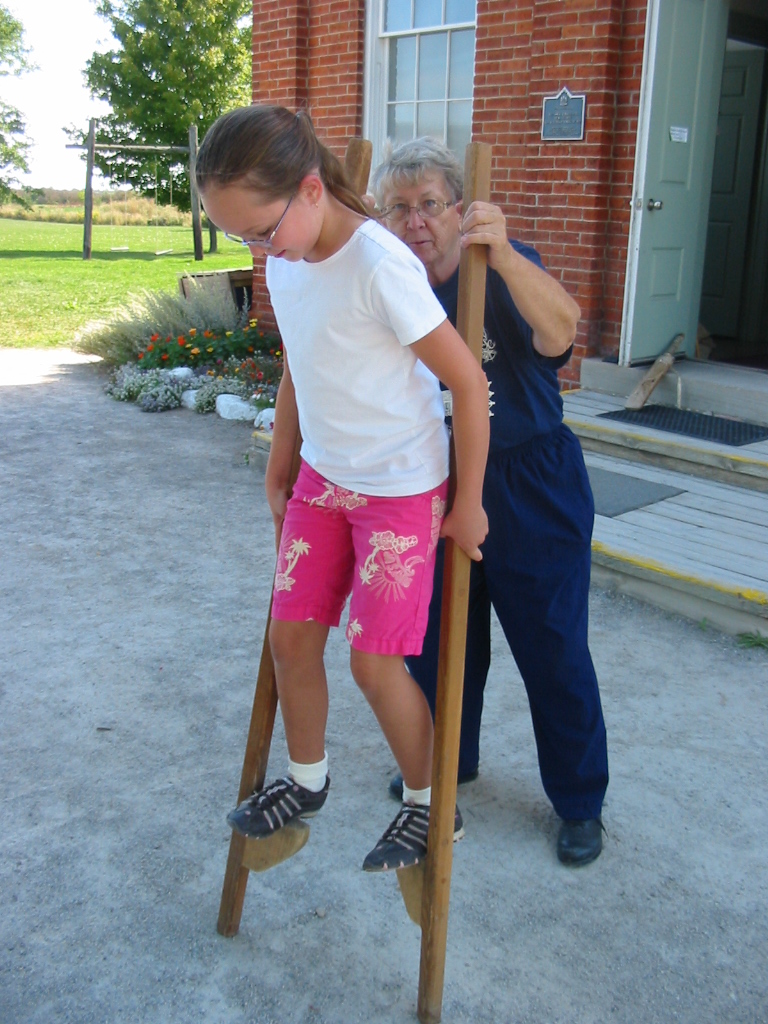 Marbles
A circle about three feet in diameter is drawn on the ground. Each person puts a marble in the centre of the circle. The goal is to use a "shooter" marble to knock one of the marbles out of the circle. If successful the person gets another turn. If not, the next person tries. A marble shot out of the circle belongs to the person who shot it out. In friendly games the marbles were returned to their owners at the end of the game. Sometimes the game was played "for keeps" and the winner kept the marbles.
Kick the Can
An old can is kicked around the schoolyard. There are no set rules. The players agree on the kind of game and the rules before beginning.
Tug of War
Two teams and a length of rope are all that are needed. A centre point is marked on the ground. Teams line up on either side of the centre point holding the rope. On the signal to start each team tries to pull the other team across the centre line.
Time to Renew Your Membership
Our membership year runs from January to December. Membership forms for renewal or new membership are on this website. Click here to get the form.
Echoes of the Past
This book, written and published by Friends of the Schoolhouse, documents the history of all of the rural one room schools that existed in Peel County. Full colour, 208 pages, $30 It is available at all our events or from any member of the Friends of the Schoolhouse Executive. There is a $10 charge for mailing.
Book Talks
Since the book, Echoes of The Past, was published in May 2016, the writers have been giving illustrated talks to historical societies and other interested groups. We talk about the book and tailor each presentation to suit the audience and the one room schools that were in their local area.
If your group would be interested in having a presentation, please contact Jean (905 826 3475) jkrob@rogers.com for further information.
Membership Drive
If you haven't already renewed your membership in the Friends of the Schoolhouse, it's time to do so. Our membership year runs from January to December. We welcome new members. Membership forms can be downloaded and printed using this link. Members play a vital part in preserving the schoolhouse and maintaining and expanding the programs for children who spend a day experiencing school life of long ago. Members receive four newsletters a year, additional notices of events, and are invited to an appreciation "Lemonade on the Lawn" event in July. In addition there are opportunities to volunteer on committees and at events.
Come and Join Us

If you have a couple of hours a month or only a few hours once or twice a year you could help us support the schoolhouse and its programs. The executive committee meets on the second Tuesday of the month from September to June to conduct the business of the Friends of the Schoolhouse and to plan programs and events. Our meetings are from 4 to 6 in the afternoon at the schoolhouse. Volunteers help on an occasional basis with our events and in the gardens. Not only do we support a worthwhile cause, we have a lot of fun doing it. Email our Executive Director Shirley Hoad at shoad@bell.net, if you have a few hours to spare and an interest in helping preserve a community treasure for future generations of children.
Open Sundays 2019-2020
1 to 4 pm - Something new every month from September to June.
For more information about our Open Sunday programs go to the Events page.
Mark Your Calendar
To see a list of our year's events go to the Events page.
Researching our Roots
There is still much more to discover about the Old Britannia Schoolhouse and other early one room schools. Read below for a wish list of "Wanted" items that will help us learn more about our historic schoolhouse.
WANTED
For use in a book on one-room schools in Peel County:
Minute Books
Cash Books
Class Photos
Report Cards
Prize Ribbons
Medals
Certificates
Shields
Contracts
Trustee Memorabilia
Teacher Memorabilia
Newspaper Clippings
School Registers
Your contribution will be acknowledged. Materials supplied will either be returned to you or donated to the Peel County Archives on your behalf.
SLATE Group
SLATE stands for So Let's All Talk Education (in a one room school), or as one witty person suggested, being truly Canadian, So Let's All Talk Eh! Each year for a day in the spring people involved in working or volunteering in living history one room schoolhouses get together to exchange ideas and learn from each other. We meet at a different schoolhouse location each year which gives everyone the opportunity to experience how living history is presented in a setting different from their own.

If you are a staff member or volunteer in a living history one room schoolhouse and would like more information about SLATE, contact:

Christine Chapel
The Old Britannia Schoolhouse
5576 Hurontario Street
Mississauga, ON
L5R 1B3
905-890-1010 ext 2911