Current News

Welcome to our website!

The Friends of the Schoolhouse web site will keep you informed about The Old Britannia Schoolhouse and the activities and events planned by the Friends' organization. We encourage you to check this site often. New information will be added monthly.
COVID 19 Information
All Friends of the Schoolhouse activities are cancelled until further notice. There will be no Open Sundays until September. Watch the Current News page for information in the coming months. The Friends wish everyone good health in these difficult days and weeks We look forward to seeing you at the schoolhouse in the future.
Our Spring Newsletter
The latest news from Friends of the Schoolhouse is now on our Newsletter page. Click here to find it. Although the Old Britannia Schoolhouse has been sitting silent for over a year, there are still things happening. Be sure to read Amy Smith's article describing how she makes history come alive for her students. They spend a week in their classroom exploring the history of the Royal Oak tree that stands in the schoolhouse garden. Take an outdoor adventure hike with Chris and her students. We can't have the usual Lemonade on the Lawn event this July, but you can have your own lemonade break in your garden or on your balcony accompanied by delicious cookies. There is lots more to enjoy in the newsletter.
Great Gardening News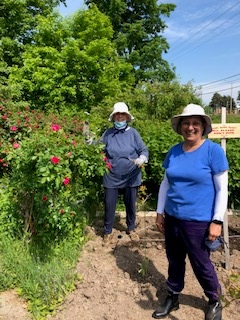 The first week of June we were finally able to get onto the schoolhouse property and start gardening. Nothing has been done since the Fall cleanup in 2019. In 2020 the garden looked after itself which meant the weeds thrived. Lots to do and we appreciate the help of our loyal gardening volunteers pictured here who have started the cleanup work.
Who, When and Why of Fathers' Day
Last month we wrote about the origins of Mother's Day. This month we will reprint the article about Fathers' Day that appeared on our June 2013 Current News.
The first Fathers' Day was celebrated in Spokane Washington on June 19, 1910. Sonora Dodd promoted the idea after Mothers' Day celebrations became popular. Sonora's father was a single parent left with 6 children to raise. Wanting to honour him, she approached the pastor of her church who arranged a special Sunday service celebrating all fathers. Sonora had hoped it could be held on June 6, her father's birthday, but there was not time enough to organize and promote the special service so the third Sunday of June was chosen.
The idea did not generate much interest beyond the Spokane community. Sonora left home to study art and did not promote the idea further until returning home in the 1930's. She began raising awareness on the national level and contacted manufacturers that would have an interest in selling products for men like ties, socks, and tobacco products. The New York Associated Menswear Retailers funded the Fathers' Day Council which would promote Fathers' Day. They had a reason to make the celebration a commercial success. There was some public resistance but by the 1980's the Fathers' Day Council reported that Fathers' Day had become a "second Christmas" in the volume of men's goods sold.
In spite of a number of attempts over the years to declare it an official holiday, it was not until 1972 that President Nixon signed a law making it a national holiday.
Steam Train Travel
During this COVID 19 stay at home period that has lasted in many places for months, one of the many things we have missed is the pleasure of travelling and seeing new places. This winter the National Trust of Canada sent an email newsletter about historic Canadian railways and included a link to a steam rail excursion in the Okanagan Valley. It was a delightful trip with beautiful scenery and a way to escape for a few minutes to another part of Canada. That started an exploration online of steam engines and steam trains (following my interest in all things historical) and escaping virtually to many parts of the world (satisfying my love of travel).
There are many train excursions to enjoy online. I've travelled to Colorado, the Blue Ridge Mountains, Switzerland, South Africa, Japan, Scotland and several other trips in Canada. the U.S. and around the world. Some are short trips of a few minutes, others are up to an hour. Some are better than others but all are interesting and informative. Here are some links if you would like to take a train journey.
VIA Canadian trans Canada:
http://www.railtraveltours.com/content/across-canada-toronto-jasper-vancouver
Pride of Africa: Cape Town to Dar Es Salaam
https://www.youtube.com/watch?v=x-iJEDPqwO8
Cass State Park West Virginia:
Kettle Valley Steam Railway Summerland BC:
Silverton Durango Steam Railway Colorado:This was one of the first I viewed and the best for history and scenery.
https://www.youtube.com/watch?v=Gby0PywaDIw
Coming Events
No events are planned during the COVID 19 pandemic.
Time to Renew Your Membership
Our membership year runs from January to December. Membership forms for renewal or new membership are on this website. Click here to get the form. Please note that because of the COVID19 pandemic, we are suspending the payment of membership fees for 2021. Our newsletters and website will continue to be available to members. Donations to support the schoolhouse and its programs are always welcome and appreciated.
Echoes of the Past
This book, written and published by Friends of the Schoolhouse, documents the history of all of the rural one room schools that existed in Peel County. Full colour, 208 pages, $30 It is available at all our events or from any member of the Friends of the Schoolhouse Executive. There is a $10 charge for mailing.
Book Talks
Since the book, Echoes of The Past, was published in May 2016, the writers have been giving illustrated talks to historical societies and other interested groups. We talk about the book and tailor each presentation to suit the audience and the one room schools that were in their local area.
If your group would be interested in having a presentation, please contact Jean (905 826 3475) jkrob@rogers.com for further information.
Membership Drive
If you haven't already renewed your membership in the Friends of the Schoolhouse, it's time to do so. Our membership year runs from January to December. We welcome new members. Membership forms can be downloaded and printed using this link. Members play a vital part in preserving the schoolhouse and maintaining and expanding the programs for children who spend a day experiencing school life of long ago. Members receive four newsletters a year, additional notices of events, and are invited to an appreciation "Lemonade on the Lawn" event in July. In addition there are opportunities to volunteer on committees and at events.
Come and Join Us

If you have a couple of hours a month or only a few hours once or twice a year you could help us support the schoolhouse and its programs. The executive committee meets on the second Tuesday of the month from September to June to conduct the business of the Friends of the Schoolhouse and to plan programs and events. Our meetings are from 4 to 6 in the afternoon at the schoolhouse. Volunteers help on an occasional basis with our events and in the gardens. Not only do we support a worthwhile cause, we have a lot of fun doing it. Email our Executive Director Shirley Hoad at shoad@bell.net, if you have a few hours to spare and an interest in helping preserve a community treasure for future generations of children.
Open Sundays 2020-2021
Something new every month from September to June.
For more information about our Open Sunday programs go to the Events page.
Mark Your Calendar
To see a list of our year's events go to the Events page.
Researching our Roots
There is still much more to discover about the Old Britannia Schoolhouse and other early one room schools. Read below for a wish list of "Wanted" items that will help us learn more about our historic schoolhouse.
WANTED
For use in a book on one-room schools in Peel County:
Minute Books
Cash Books
Class Photos
Report Cards
Prize Ribbons
Medals
Certificates
Shields
Contracts
Trustee Memorabilia
Teacher Memorabilia
Newspaper Clippings
School Registers
Your contribution will be acknowledged. Materials supplied will either be returned to you or donated to the Peel County Archives on your behalf.
SLATE Group
SLATE stands for So Let's All Talk Education (in a one room school), or as one witty person suggested, being truly Canadian, So Let's All Talk Eh! Each year for a day in the spring people involved in working or volunteering in living history one room schoolhouses get together to exchange ideas and learn from each other. We meet at a different schoolhouse location each year which gives everyone the opportunity to experience how living history is presented in a setting different from their own.

If you are a staff member or volunteer in a living history one room schoolhouse and would like more information about SLATE, contact:

Christine Chapel
The Old Britannia Schoolhouse
5576 Hurontario Street
Mississauga, ON
L5R 1B3
905-890-1010 ext 2911