Current News

Welcome to our website!

The Friends of the Schoolhouse web site will keep you informed about The Old Britannia Schoolhouse and the activities and events planned by the Friends' organization. We encourage you to check this site often. New information will be added monthly.
Winter in Britannia
Winter across Canada so far this year has been unusually cold and snowy. The former village of Britannia where the schoolhouse is located escaped the worst of the weather. This has not alsways been the case. Photos show that over the past century there have been many times when the village and the school were snowed in, providing lots of fun for the children.

Ben Madill who attended the Britannia Schoolhouse in the 1920s, took this photo of Hurontario Street. There is barely a walking path where the road would be and the banked snow is almost as high as the hydro wires.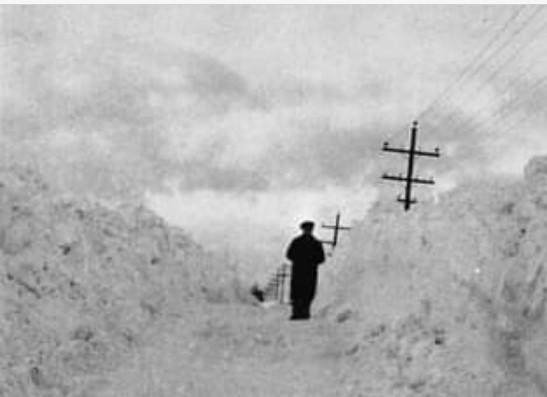 There is no record of who the person is walking along the road, but it certainly wouldn't be a student on the way to school that day.

Most students were probably at home playing in the snow, building forts and snowmen, having snowball fights and making snow angels after finishing their farm chores and looking after the animals.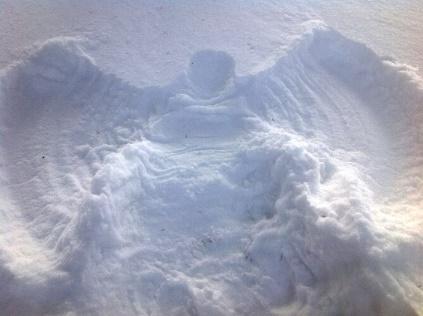 In recent years there have been some major snow storms. The school and the school yard looked much as it must have when Ben attended S.S.12.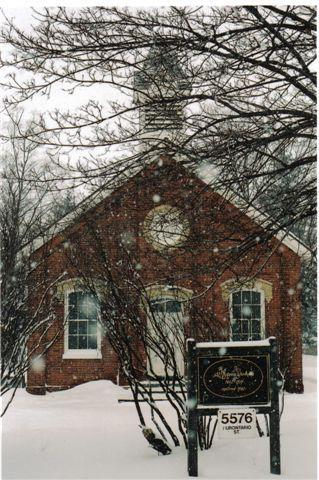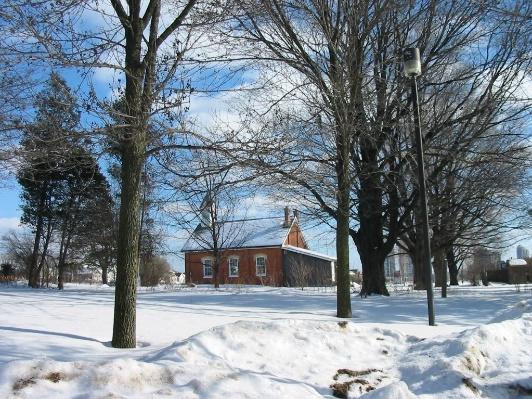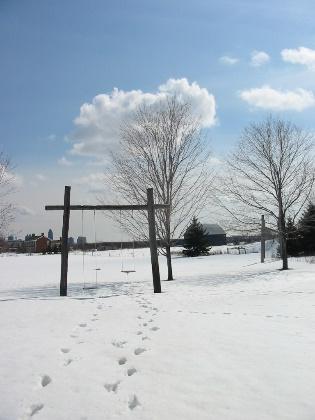 Getting to school in winter was a challenge for the little ones. You can imagine a six year old navigating the snowy road and snow banks in Ben's photo. In the late 1800a many young children stayed home during the winter months and attended school during the summer. Today modern snow removal techniques make travelling to school easier, but there are still "snow days" when the school busses can't run and children get a day off school to play in the snow.
Warm Up on a Cold Day.
Something hot to eat is always welcome on a cold day. In the late 1800w a wood stove in the kitchen was used for cooking and heating. It was left burning all day. An iron pot often sat on the stove and at the end of a meal any leftover meat and vegetables were added to the pot. After a few hours a soup or stew was ready. Today we can do the same in a slow cooker. Here's one recipe to try on a cold, snowy day.

Ingredients:
Pork, chicken or beef cut in small pieces
Potatoes cut in small pieces
Carrots cut in small pieces
Celery cut in small pieces
Small yellow onion quartered
1 can diced tomatoes
Green beans
Chicken broth
Italian herb mix
Salt
Pepper

Prepareation
Brown meat in oil before adding to slow cooker
Add all other ingredients, adding just enough chicken broth to cover the meat and vegetables
Stir to combine
Cook on high for 6 hours or until vegetables are tender.

NOTE: Any vegetables you have on hand can be used. Amounts can vary. Just use what you have.
Coming Events
No events are planned during the COVID 19 pandemic.
Time to Renew Your Membership
Our membership year runs from January to December. Membership forms for renewal or new membership are on this website. Click here to get the form. Please note that because of the COVID19 pandemic, we are suspending the payment of membership fees for 2021. Our newsletters and website will continue to be available to members. Donations to support the schoolhouse and its programs are always welcome and appreciated.
Echoes of the Past
This book, written and published by Friends of the Schoolhouse, documents the history of all of the rural one room schools that existed in Peel County. Full colour, 208 pages, $30 It is available at all our events or from any member of the Friends of the Schoolhouse Executive. There is a $10 charge for mailing.
Book Talks
Since the book, Echoes of The Past, was published in May 2016, the writers have been giving illustrated talks to historical societies and other interested groups. We talk about the book and tailor each presentation to suit the audience and the one room schools that were in their local area.
If your group would be interested in having a presentation, please contact Jean (905 826 3475) jkrob@rogers.com for further information.
Come and Join Us

If you have a couple of hours a month or only a few hours once or twice a year you could help us support the schoolhouse and its programs. The executive committee meets on the second Tuesday of the month from September to June to conduct the business of the Friends of the Schoolhouse and to plan programs and events. Our meetings are from 4 to 6 in the afternoon at the schoolhouse. Volunteers help on an occasional basis with our events and in the gardens. Not only do we support a worthwhile cause, we have a lot of fun doing it. Email our Executive Director Shirley Hoad at shoad@bell.net, if you have a few hours to spare and an interest in helping preserve a community treasure for future generations of children.
Mark Your Calendar
To see a list of our year's events go to the Events page.
Researching our Roots
There is still much more to discover about the Old Britannia Schoolhouse and other early one room schools. Read below for a wish list of "Wanted" items that will help us learn more about our historic schoolhouse.
WANTED
For use in a book on one-room schools in Peel County:
Minute Books
Cash Books
Class Photos
Report Cards
Prize Ribbons
Medals
Certificates
Shields
Contracts
Trustee Memorabilia
Teacher Memorabilia
Newspaper Clippings
School Registers
Your contribution will be acknowledged. Materials supplied will either be returned to you or donated to the Peel County Archives on your behalf.
SLATE Group
SLATE stands for So Let's All Talk Education (in a one room school), or as one witty person suggested, being truly Canadian, So Let's All Talk Eh! Each year for a day in the spring people involved in working or volunteering in living history one room schoolhouses get together to exchange ideas and learn from each other. We meet at a different schoolhouse location each year which gives everyone the opportunity to experience how living history is presented in a setting different from their own.

If you are a staff member or volunteer in a living history one room schoolhouse and would like more information about SLATE, contact:

Christine Chapel
The Old Britannia Schoolhouse
5576 Hurontario Street
Mississauga, ON
L5R 1B3
905-890-1010 ext 2911