Current News

Welcome to our website!

The Friends of the Schoolhouse web site will keep you informed about The Old Britannia Schoolhouse and the activities and events planned by the Friends' organization. We encourage you to check this site often. New information will be added monthly.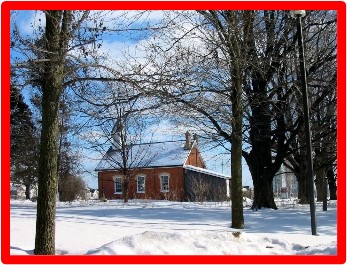 Wishing You a Happy Holiday and Much Cheer in the New Year!
From all your Friends at the Schoolhouse
Fall Newsletter Online
The newsletter this time has both happy and sad items. In October we lost the Conover Barn to fire. On a happy note we received an article from Dennis Patterson, former Schoolmaster, telling us of his happy visit to the schoolhouse this summer with his family. Dennis moved to Japan several years ago. There are also recipes and activities to try and a history lesson. Click here to find the newsletter.
A Heritage Moment Overlooked
The Friends of the Schoolhouse are interested in the history of the Old Britannia Schoolhouse and of schooling in general. We did extensive research for our book Echoes of the Past about all the early one room schoolhouses in Peel County. But we were recently reminded that 2019 marked two hundred years since the government surveys of land set aside specific lots for the use of schools. At that time lots were set aside for churches too. The lot originally set aside for the little village of Britannia was not the lot where the current schoolhouse now sits. It was further north on Hurontario Street. It was not until 1833 that King William IV granted 200 acres if land to three local men for the specific purpose of providing for the education of children. There were several school buildings before the present one was built in 1852. It's uncertain, but there was likely a log building and one or more frame buildings.
Even if we had remembered that 2019 marked an important anniversary in education in Ontario, it would have been impossible to have any kind of event during COVID. Hopefully in 2033 we will be able to have a celebration of the 200 year anniversary of the 1833 granting of the Britannia Farm property.
Coming Events
No events are planned during the COVID 19 pandemic.
Time to Renew Your Membership
Our membership year runs from January to December. Membership forms for renewal or new membership are on this website. Click here to get the form.
Echoes of the Past
This book, written and published by Friends of the Schoolhouse, documents the history of all of the rural one room schools that existed in Peel County. Full colour, 208 pages, $30 It is available at all our events or from any member of the Friends of the Schoolhouse Executive. There is a $10 charge for mailing.
Book Talks
Since the book, Echoes of The Past, was published in May 2016, the writers have been giving illustrated talks to historical societies and other interested groups. We talk about the book and tailor each presentation to suit the audience and the one room schools that were in their local area.
If your group would be interested in having a presentation, please contact Daryl Cook dlcook@rogers.com for further information.
Come and Join Us

If you have a couple of hours a month or only a few hours once or twice a year you could help us support the schoolhouse and its programs. The executive committee meets on the second Tuesday of the month from September to June to conduct the business of the Friends of the Schoolhouse and to plan programs and events. Our meetings are from 4 to 6 in the afternoon at the schoolhouse. Volunteers help on an occasional basis with our events and in the gardens. Not only do we support a worthwhile cause, we have a lot of fun doing it. Email our Executive Director Shirley Hoad at shoad@bell.net, if you have a few hours to spare and an interest in helping preserve a community treasure for future generations of children.
Mark Your Calendar
To see a list of our year's events go to the Events page.
Researching our Roots
There is still much more to discover about the Old Britannia Schoolhouse and other early one room schools. Read below for a wish list of "Wanted" items that will help us learn more about our historic schoolhouse.
WANTED
For use in a book on one-room schools in Peel County:
Minute Books
Cash Books
Class Photos
Report Cards
Prize Ribbons
Medals
Certificates
Shields
Contracts
Trustee Memorabilia
Teacher Memorabilia
Newspaper Clippings
School Registers
Your contribution will be acknowledged. Materials supplied will either be returned to you or donated to the Peel County Archives on your behalf.
SLATE Group
SLATE stands for So Let's All Talk Education (in a one room school), or as one witty person suggested, being truly Canadian, So Let's All Talk Eh! Each year for a day in the spring people involved in working or volunteering in living history one room schoolhouses get together to exchange ideas and learn from each other. We meet at a different schoolhouse location each year which gives everyone the opportunity to experience how living history is presented in a setting different from their own.

If you are a staff member or volunteer in a living history one room schoolhouse and would like more information about SLATE, contact:

Christine Chapel
The Old Britannia Schoolhouse
5576 Hurontario Street
Mississauga, ON
L5R 1B3
905-890-1010 ext 2911