Current News

Welcome to our website!

The Friends of the Schoolhouse web site will keep you informed about The Old Britannia Schoolhouse and the activities and events planned by the Friends' organization. We encourage you to check this site often. New information will be added monthly.
Spring Newsletter
The Spring Newsletter is now on the Newsletter page. Click here to find it. You'll find a couple of great summer recipes along with interesting articles.
June Fun at a One Room School
The spring months were always a busy time in the rural village of Britannia. Farm families were preparing for planting and tending the crops. Children helped too. The end of the school year was celebrated with special activities and events. Just as today, there was great anticipation that the last school day was soon to arrive.
There was often a day of sports activities. Races of various kinds and difficulty suited to the ages of the children were popular, Games of skill such as horseshoes and ring toss were a challenge. There was a baseball diamond in the schoolhouse playground so there would be a baseball game, sometimes played with a team from another school.
Community picnics were held in June. A local newspaper reported that on June 8,1877 the Britannia School held a very successful picnic in Gardner's Bush. The afternoon was spent playing croquet, football and baseball. Tea and food were served at 6. In the evening, entertainment was provided by the Meadowvale band and school choirs. It was apparently a great success with a large turnout.
Children also looked forward to the baseball season. Here is the schedule for 1926.
| | |
| --- | --- |
| May 8 | Britannia at Terra Cotta |
| June 4 | Cheltenham at Britannia |
| June 10 | Britannia at Meadowvale |
| June 14 | Britannia at Norval |
| June 24 | Britannia at Huttonville |
| July 2 | Terra Cotta at Britannia |
| July 6 | Britannia at Cheltenham |
| July 15 | Meadowvale at Britannia |
| July 19 | Norval at Britannia |
| No date | Huttonsville at Britannia |
Football was also popular in the spring. Here is a report of a game in June, 1921.
The junior football team from Palestine played a game on Thursday last with the juniors of Britannia. The boys of the Holy Land were beaten. The score was 3-0. Nobody cared because when you put the visitors up against the little red school, they were several sizes smaller than their opponents. A big crowd turned out to see the game and the hearty interest and consequent cheering made the game go off without a snap.
Here are some memories of a Britannia School picnic the Friends of the Schoolhouse organized one June in the 1990s.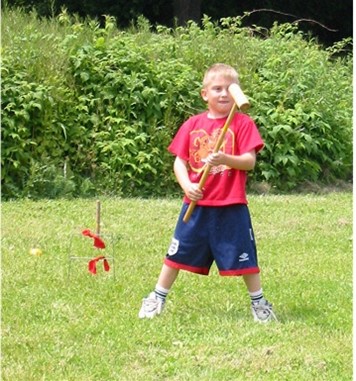 Playing Croquet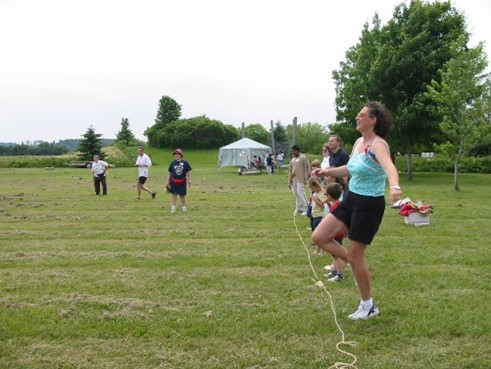 Crossing the finish line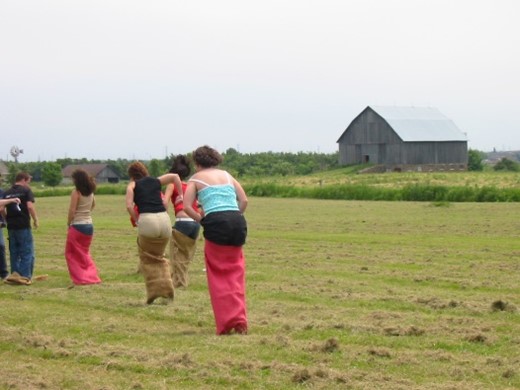 A potato sack race
The Friends of the Schoolhouse wish you a happy and fun-filled summer.
Coming Events
No events are planned during the COVID 19 pandemic.
Time to Renew Your Membership
Our membership year runs from January to December. Membership forms for renewal or new membership are on this website. Click here to get the form. Please note that because of the COVID19 pandemic, we are suspending the payment of membership fees for 2021. Our newsletters and website will continue to be available to members. Donations to support the schoolhouse and its programs are always welcome and appreciated.
Echoes of the Past
This book, written and published by Friends of the Schoolhouse, documents the history of all of the rural one room schools that existed in Peel County. Full colour, 208 pages, $30 It is available at all our events or from any member of the Friends of the Schoolhouse Executive. There is a $10 charge for mailing.
Book Talks
Since the book, Echoes of The Past, was published in May 2016, the writers have been giving illustrated talks to historical societies and other interested groups. We talk about the book and tailor each presentation to suit the audience and the one room schools that were in their local area.
If your group would be interested in having a presentation, please contact Jean (905 826 3475) jkrob@rogers.com for further information.
Come and Join Us

If you have a couple of hours a month or only a few hours once or twice a year you could help us support the schoolhouse and its programs. The executive committee meets on the second Tuesday of the month from September to June to conduct the business of the Friends of the Schoolhouse and to plan programs and events. Our meetings are from 4 to 6 in the afternoon at the schoolhouse. Volunteers help on an occasional basis with our events and in the gardens. Not only do we support a worthwhile cause, we have a lot of fun doing it. Email our Executive Director Shirley Hoad at shoad@bell.net, if you have a few hours to spare and an interest in helping preserve a community treasure for future generations of children.
Mark Your Calendar
To see a list of our year's events go to the Events page.
Researching our Roots
There is still much more to discover about the Old Britannia Schoolhouse and other early one room schools. Read below for a wish list of "Wanted" items that will help us learn more about our historic schoolhouse.
WANTED
For use in a book on one-room schools in Peel County:
Minute Books
Cash Books
Class Photos
Report Cards
Prize Ribbons
Medals
Certificates
Shields
Contracts
Trustee Memorabilia
Teacher Memorabilia
Newspaper Clippings
School Registers
Your contribution will be acknowledged. Materials supplied will either be returned to you or donated to the Peel County Archives on your behalf.
SLATE Group
SLATE stands for So Let's All Talk Education (in a one room school), or as one witty person suggested, being truly Canadian, So Let's All Talk Eh! Each year for a day in the spring people involved in working or volunteering in living history one room schoolhouses get together to exchange ideas and learn from each other. We meet at a different schoolhouse location each year which gives everyone the opportunity to experience how living history is presented in a setting different from their own.

If you are a staff member or volunteer in a living history one room schoolhouse and would like more information about SLATE, contact:

Christine Chapel
The Old Britannia Schoolhouse
5576 Hurontario Street
Mississauga, ON
L5R 1B3
905-890-1010 ext 2911