Current News

Welcome to our website!

The Friends of the Schoolhouse web site will keep you informed about The Old Britannia Schoolhouse and the activities and events planned by the Friends' organization. We encourage you to check this site often. New information will be added monthly.
Celebrating the Queens
For over a century we have been celebrating the birthday of Queen Victoria who was born on May 24, 1819. Children used to chant, "24th of May, the Queen's birthday. If you don't give us a holiday we'll all run away." For most of the twentieth century the holiday was held on May 24. That changed a number of years ago and now we celebrate on the Monday before May 25. Today people think of it as a welcome long weekend to celebrate the end of winter and start summer activities. Since Queen Victoria's reign ended in 1901 after 64 years, few people today think about her on this holiday weekend. There are municipal celebrations and fireworks to mark the occasion, but even these rarely focus on Queen Victoria. Nevertheless, the children still get a holiday and the children who are lucky enough to visit The Old Britannia Schoolhouse for a day are very aware of Queen Victoria. They see her picture hanging at the front of the schoolroom every day.

This year in June Canada and the other countries of the Commonwealth will be celebrating Queen Elizabeth's 70 year reign. Both Queen Elizabeth and Queen Victoria ascended to the throne unexpectedly at a very young age. In many ways their lives were somewhat similar. Both married men who were not viewed to be appropriate. Nevertheless, each married the man she chose and had happy, successful marriages with several children. Unfortunately, Albert died young and Victoria never recovered. Elizabeth's marriage to Philip lasted 73 years. Like Albert, he had no official role, but was a constant support until his death. For seventy years Queen Elizabeth has been a constant stabilizing influence though in quiet, non-political ways. She dedicated herself to a life of service and has done this throughout her 70 year reign.

On June 2, 2022 Canada will join Great Britain and many other parts of the world to celebrate Queen Elizabeth's Platinum Anniversary.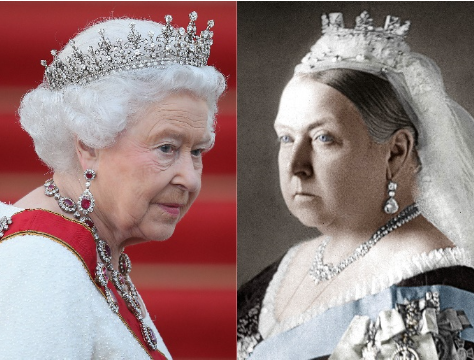 Signs of Spring in Gardens Past
Again this year COVID has prevented us from getting into the garden for the usual Spring Cleanup. It will be a huge job whenever we are able to get at it. In the meantime, here are some photos of past May days in the schoolhouse historic gardens. One day they will bloom again for us to enjoy.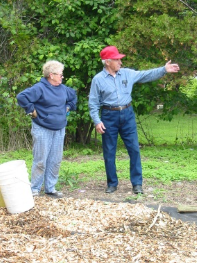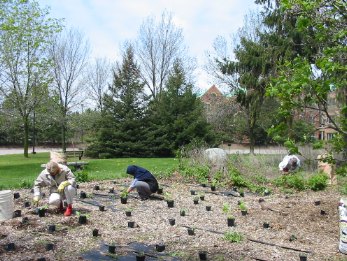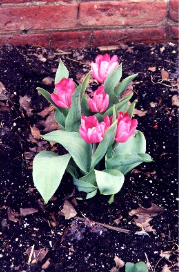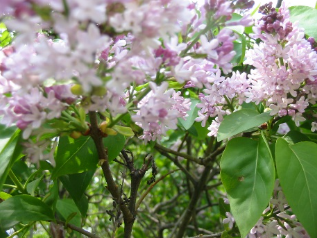 Clematis on the Teachers' Arbour
Clematis: Etoile Violette
1885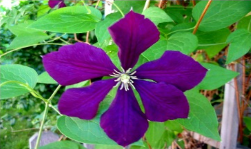 Clematis: Etoile Rose
1903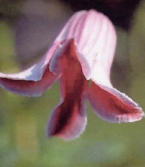 COVID 19 Information
All Friends of the Schoolhouse activities are cancelled until further notice. There will be no Open Sundays until September. Watch the Current News page for information in the coming months. The Friends wish everyone good health in these difficult days and weeks We look forward to seeing you at the schoolhouse in the future.
Coming Events
No events are planned during the COVID 19 pandemic.
Time to Renew Your Membership
Our membership year runs from January to December. Membership forms for renewal or new membership are on this website. Click here to get the form. Please note that because of the COVID19 pandemic, we are suspending the payment of membership fees for 2021. Our newsletters and website will continue to be available to members. Donations to support the schoolhouse and its programs are always welcome and appreciated.
Echoes of the Past
This book, written and published by Friends of the Schoolhouse, documents the history of all of the rural one room schools that existed in Peel County. Full colour, 208 pages, $30 It is available at all our events or from any member of the Friends of the Schoolhouse Executive. There is a $10 charge for mailing.
Book Talks
Since the book, Echoes of The Past, was published in May 2016, the writers have been giving illustrated talks to historical societies and other interested groups. We talk about the book and tailor each presentation to suit the audience and the one room schools that were in their local area.
If your group would be interested in having a presentation, please contact Jean (905 826 3475) jkrob@rogers.com for further information.
Membership Drive
If you haven't already renewed your membership in the Friends of the Schoolhouse, it's time to do so. Our membership year runs from January to December. We welcome new members. Membership forms can be downloaded and printed using this link. Members play a vital part in preserving the schoolhouse and maintaining and expanding the programs for children who spend a day experiencing school life of long ago. Members receive four newsletters a year, additional notices of events, and are invited to an appreciation "Lemonade on the Lawn" event in July. In addition there are opportunities to volunteer on committees and at events.
Come and Join Us

If you have a couple of hours a month or only a few hours once or twice a year you could help us support the schoolhouse and its programs. The executive committee meets on the second Tuesday of the month from September to June to conduct the business of the Friends of the Schoolhouse and to plan programs and events. Our meetings are from 4 to 6 in the afternoon at the schoolhouse. Volunteers help on an occasional basis with our events and in the gardens. Not only do we support a worthwhile cause, we have a lot of fun doing it. Email our Executive Director Shirley Hoad at shoad@bell.net, if you have a few hours to spare and an interest in helping preserve a community treasure for future generations of children.
Open Sundays 2020-2021
Something new every month from September to June.
For more information about our Open Sunday programs go to the Events page.
Mark Your Calendar
To see a list of our year's events go to the Events page.
Researching our Roots
There is still much more to discover about the Old Britannia Schoolhouse and other early one room schools. Read below for a wish list of "Wanted" items that will help us learn more about our historic schoolhouse.
WANTED
For use in a book on one-room schools in Peel County:
Minute Books
Cash Books
Class Photos
Report Cards
Prize Ribbons
Medals
Certificates
Shields
Contracts
Trustee Memorabilia
Teacher Memorabilia
Newspaper Clippings
School Registers
Your contribution will be acknowledged. Materials supplied will either be returned to you or donated to the Peel County Archives on your behalf.
SLATE Group
SLATE stands for So Let's All Talk Education (in a one room school), or as one witty person suggested, being truly Canadian, So Let's All Talk Eh! Each year for a day in the spring people involved in working or volunteering in living history one room schoolhouses get together to exchange ideas and learn from each other. We meet at a different schoolhouse location each year which gives everyone the opportunity to experience how living history is presented in a setting different from their own.

If you are a staff member or volunteer in a living history one room schoolhouse and would like more information about SLATE, contact:

Christine Chapel
The Old Britannia Schoolhouse
5576 Hurontario Street
Mississauga, ON
L5R 1B3
905-890-1010 ext 2911